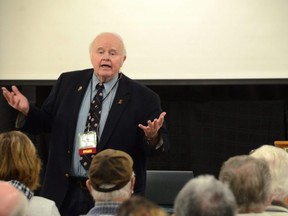 Article content
With the high cost of feed and other inputs weighing on dairy farmers, it is inevitable that consumers will also see the prices for products like milk, cheese and butter also rise on the grocery store, a US specialist said during Dairy Day at Gray Bruce Farmers. Week on Thursday.
Article content
Mike Hutjens, an extension dairy specialist with the University of Illinois Animal Sciences Department, who spoke to a crowd of producers, agribusiness representatives and others about feeding strategies when facing high feed costs, said that in both Canada and the US, feed costs today are the highest input to producing milk.
"Feed costs have gone up significantly – in many cases 20 to 25 per cent," Hutjens said following his talk. "I think consumers have to be well aware that obviously the costs of producing milk just go up tremendously, while farmers also have the increase in fertilizer costs, transportation costs and fuel costs. All those things are going up."
And Hutjens said producers will continue to face more upward pressures on their input costs, specifically when it becomes time for crops to be planted in the spring.
Article content
"When that spring planting season comes, the demand for gasoline and diesel fuel are going to go up significantly, and so now all of a sudden next year's cropping costs are going to go up," Hutjens said.
"We need to be keenly aware that these costs have major impacts on the profit margin."
One bright spot for Canadian producers is that milk prices are significantly higher north of the border than they are in the US, Hutjens said.
"Your Canadian farmer has a little bit of insulation, whereas our guy in the US is going to get really squeezed, because they are predicting the price of milk is going to go down and all these other costs are not going to change very much and maybe even increase as far as that goes," Hutjens said.
Article content
Consumers in Canada have already seen the impact of increased costs for producers on the products on store shelves. The Canadian Dairy Commission, which oversees Canada's dairy supply management system, approved two increases to farm gate milk prices last year – 2.5 per cent, or about two cents per liter, in September and 8.4 per cent, about six cents per liter, in February . The Crown corporation has approved another 2.2 per cent increase that is to come into effect Feb. 1.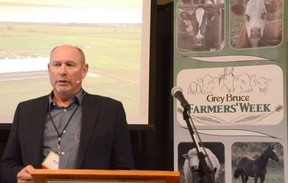 Mark Hamel, a Bruce County dairy farmer and board member for the Dairy Farmers of Ontario Region 11, which is made up of Gray and Bruce counties, provided a DFO update on Thursday.
Hamel said the industry is currently strong and thriving, but they also have their challenges.
Article content
"The fluid market had decreased, but all the other categories have seen growth," Hamel said. "There is a strong demand for fluid cream, which drives our quota system and production at the farm."
Hamel said all dairy farmers simply want to be able to do is grow their business and be fairly compensated for their cost of production.
"We have a strong milk price and at times it can reflect in the marketplace as well and affect the markets," said Hamel. "There is a strong demand for butterfat, which our system is based on."
Hamel said a 2 per cent increase in salable quota that began Jan. 1 is welcome, but associated with that are structural surpluses in the portions of the milk not associated with butterfat.
"Processing capacity hasn't kept up with that surplus so there is an additional cost to our system for skimming that we have to absorb if we supply that butterfat," Hamel said. "We need a more collaborative approach with the processors, our producers and our government to find a solution for more investment in capacity and innovation."
Article content
On the trade front, there are currently two agreements being disputed. Last year, the US requested new consultation on the Canada-United States-Mexico Agreement (CUSMA), challenging the eligibility criteria under Canada's revised tariff-rate quota (TRQ) allocation policy. Last year, New Zealand also requested a consultation with Canada related to the allocation of dairy TRQs under the Comprehensive and Progressive Agreement for Trans-Pacific Partnership (CPTPP) dispute settlement process.
"Good news on trade is we received confirmation of compensation for the CUSMA agreement for producers," said Hamel. "Receiving that fair and equitable compensation was an issue with us. We were promised it and until you actually receive it you worry."
Article content
Dairy Day on Thursday was the second day of the 57thth annual Gray Bruce Farmers' Week, which opened on Wednesday with Beef Day. The annual conference and trade show, that is co-ordinated by Gray County Agricultural Services and is supported by numerous other businesses, organizations and individuals, is returning to an in-person event this year after being held virtually in 2021 and 2022 because of the COVID-19 pandemic.
Along with Hutjens and Hamel, other speakers on Thursday included Dr. Kelly Barratt on Dairy Cattle Well-Being in Canada and Michael von Massow on how the consumer landscape is changing and what it means for the dairy industry. There was a panel on robotic milking systems and a talk by Christine O'Reilly on protecting one's feed supply from Bt-resistant corn rootworm.
Article content
The event is to continue with Goat Day on Friday, Sheep Day on Saturday, Horse Day on Sunday, Ecological Day on Monday and Crops Day on Tuesday.
Along with the live in-person event, viewers are also able to participate online. Those who purchase tickets for livestreaming or in-person attendance receive access to conference recordings for 30 days after the event. Viewers also receive 21 pre-recorded "on-demand" presentations.
Lunch is served each day, including hot roast beef, goat and lamb on their respective days and pie for dessert.
While Dr. Henry Feenstra of Owen Sound is not a farmer or producer, he was attending the event to become more informed.
"I live in a rural community, I like to know what is going on here so when I talk to children I don't talk out of total ignorance. Also, I am interested in science," said Feenstra. "I am finding that the technology and science has changed so much and I was raised on a farm.
"You need a dietician for the feed, you need a good mechanic to deal with your machinery, you need a good computer guy. . . no wonder farms have to go big."
More information about the event and its speakers are available at gbfw.ca.