If you are trying to lose weight, chances are you've at least considered purchasing a thermogenic fat burner to help speed up the process. This means you've probably asked yourself if they are really effective or a waste of money.
The answer is on the back of the bottle. The combination of ingredients and dosages is crucial. But looking at an ingredient label won't do you much good if you don't know what the ingredients are and how they work.
Today, we want to tell you about one of the market's most popular and effective thermogenic fat burners—Inno Shred by Inno supps.
The main questions we'll be answering about Inno Shred include:
What are the ingredients in the formula if the dosages are clinically effective?

How do the ingredients work to help maximize fat loss?

If these ingredients have clinically backed studies?

What do customers and doctors have to say about its effectiveness?

Who is the company that formulates and manufactures it?
Breakdown Of Inno Supps Inno Shred
We'll begin with the claims and a quick product summary so you can get a feel of what you can expect from Inno Shred.
Claims
Rapidly helps burn stubborn fat from three crucial angles.

Increases metabolism and calorie burn after just one dose.

Increases brown adipose tissue (a type of fat that helps you stay lean year-round).

Mildly reduces appetite and curbs cravings.

Increases energy expenditure while active and at rest (without jitters or a crash).
Product Summary
The serving size is two small capsules, once or twice per day.

Comes in a stimulant-free and stimulant version.

Each formula contains potent thermogenic compounds and metabolism boosters.

The stimulant version has 200 mg of organic caffeine per serving.

Is it manufactured in the USA in an FDA-approved facility?

Is third-party tested for safety and effectiveness?

Has thousands of 5-star reviews.

Do doctors use it and endorse it?

The price point is less than $40 (can be lower with a subscription, bundle deal, or when they are having a sale).
Inno Shred Ingredients, Dosages and Clinical Backing
Inno Shred Contains eight natural ingredients in effective dosages unless you opt for the stimulant-free version, which has five ingredients.
We'll start by highlighting the two-star ingredients found in both formulas responsible for the majority of Inno Shreds' around-the-clock fat-burning effects.
100 mg of Capsimax™ (Cayenne Pepper Fruit Extract): Capsimax is a concentrated extract of capsicum clinically shown to enhance metabolic rate, increase energy expenditure while active and at rest, curb cravings and mildly suppress appetite.
Studies show that for every 100 mg of Capsimax consumed (the dosage in each serving of Inno Shred), you can burn 116 additional calories without changing your diet or training program.
Evidence also shows when combined with a proper workout regimen, Capsimax helps target stubborn body fat and burn it for energy.
25 mg of Grains of Paradise (Paradoxine™): Grains of paradise is an ancient spice known for its fat-loss properties. Paradoxine is a trademarked dominant brand of the herb with clinical studies showing its effectiveness and is the only safety-certified grains of paradise extract on the market.
Grains of paradise is clinically shown to help increase BAT (brown adipose tissue). Also known as brown fat, BAT is a type of fat you want because it is associated with rapidly improved weight loss and the ability to maintain a leaner body index year round.
Grains of paradise is also clinically shown to help speed up your metabolism, allowing you to burn more calories while active and at rest without cutting calories or adding extra activity.

Other Natural Ingredients in Inno Shred

200 mg of Purcaf™: The stimulant version of Inno Shred also contains an organic type of caffeine called Purcaf™. Caffeine is clinically shown to amplify the body's fat-burning processes, increase basal metabolic rate, mildly suppress appetite and curb cravings.
50 mg of Citrus Aurantium Fruit Extract (bitter orange): A citrus fruit extract that is said to increase metabolism and energy expenditure.
1 mg of Alpha Yohimbine (Rauwolscine): Yohimbe is an evergreen tree that has a compound called yohimbine in its bark. Rauwolscine is a rare variation of yohimbine. It is shown to help promote rapid fat burning, increase your basal metabolic rate, mobilize fat trapped in your cells, enhance energy levels, suppress appetite and even help prevent new body fat formation.
300 mg of Green Tea Extract (EGCG): Shown to help improve health and body composition by helping reduce body mass index, increasing fat burning/oxidation and its ability to help you burn fat while you are at rest.
300 mg of CLA: A well-studied type of fatty acid that has been shown to help promote weight loss and improve metabolic function.
300 mg of Green Coffee Bean Extract: Green coffee bean extract comes from coffee beans that haven't been roasted. Studies show that the extract can help reduce total body weight and fat accumulation.
Inno Shred Reviews and Doctor Endorsements
There are thousands of 4- and 5-star reviews. Inno Shred is also backed by several physicians.
Here are a few we randomly selected include:

"It helped me lose weight more quickly and gave me more stamina for my runs, which helped me get more exercise overall. I went from 205 pounds down to 195 pounds in just three weeks." — Bowen T.
This stuff paired with night shred at night is the flipping holy gril. Weight was just falling off. And I hate to say it, but I wasn't being disciplined with my diet when I took these and it still worked amazingly. I am buying more except I will be watching my nutrition this time. Can't wait to see my results. 10/10!" – Kindle C.
Having a healthy metabolism and more brain power are two things most adults could stand to improve. Inno Shred Focus is unique in that it addresses both and does so with safe, natural ingredients in effective dosages." Dr. David Filsoof, Cedars-Sinai Cardiologist
Inno Shred Formulator
Inno supps is a Las Vegas-based company that is a trusted leader in the supplement space; known for having clean and effective supplements that are free of fillers, artificial flavors and artificial sweeteners.
Inno Supps produces all of its products in United States-based GMP-certified and Informed Choice facilities and conducts third-party testing to prevent contamination and ensure product integrity. All their products are also free of fillers, artificial flavors and artificial sweeteners.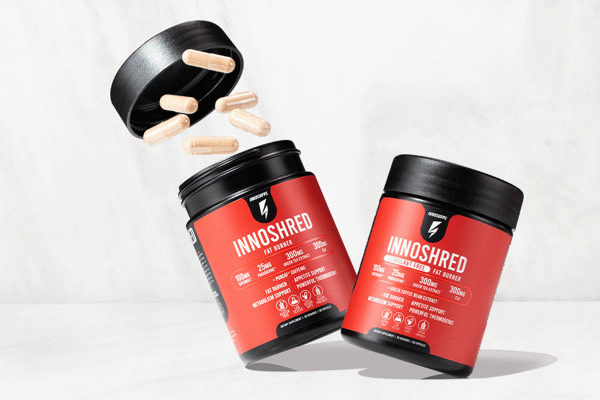 Both the stimulant and non-stimulant versions of Inno Shred contain clean and natural ingredients in effective dosages with solid clinical backing.
Inno Shred seems to be inferior to other thermogenic fat burners on the market, the price point is right, it is formulated by a trusted company, has excellent customer reviews and is doctor approved.
The company also offers a money-back guarantee if you aren't satisfied. If your goal is to lose body fat, we don't see why you wouldn't try it.
Click here to purchase Inno Shred today.
The opinions in this article do not necessarily reflect the opinions of the Las Vegas Review-Journal And you should consult your doctor before starting any new health related practice.
Members of the editorial and news staff of the Las Vegas Review-Journal were not involved in the creation of this content.