December 06, 2022
By Jack Hennessy
Print recipe
Liquid gold. The bacon of waterfowl. Gourmet-Gucci-grocery-store-level stuff. Rendered waterfowl fat is all this and more. It's also incredibly easy to make. The process starts with plucking your birds, as you'll need that skin to render its fat. And I'll admit: Pulling feathers is likely by far the most arduous step in this entire process, but once you've made the effort, I think you will agree it was well worth it.
Perhaps you, like me, prefer to cook your Canada goose legs skinless. You can still pluck those legs and thighs and when you pull off the skin, save it so you can render it fat. Yes, you can even use skin from a bird's tail to render waterfowl fat.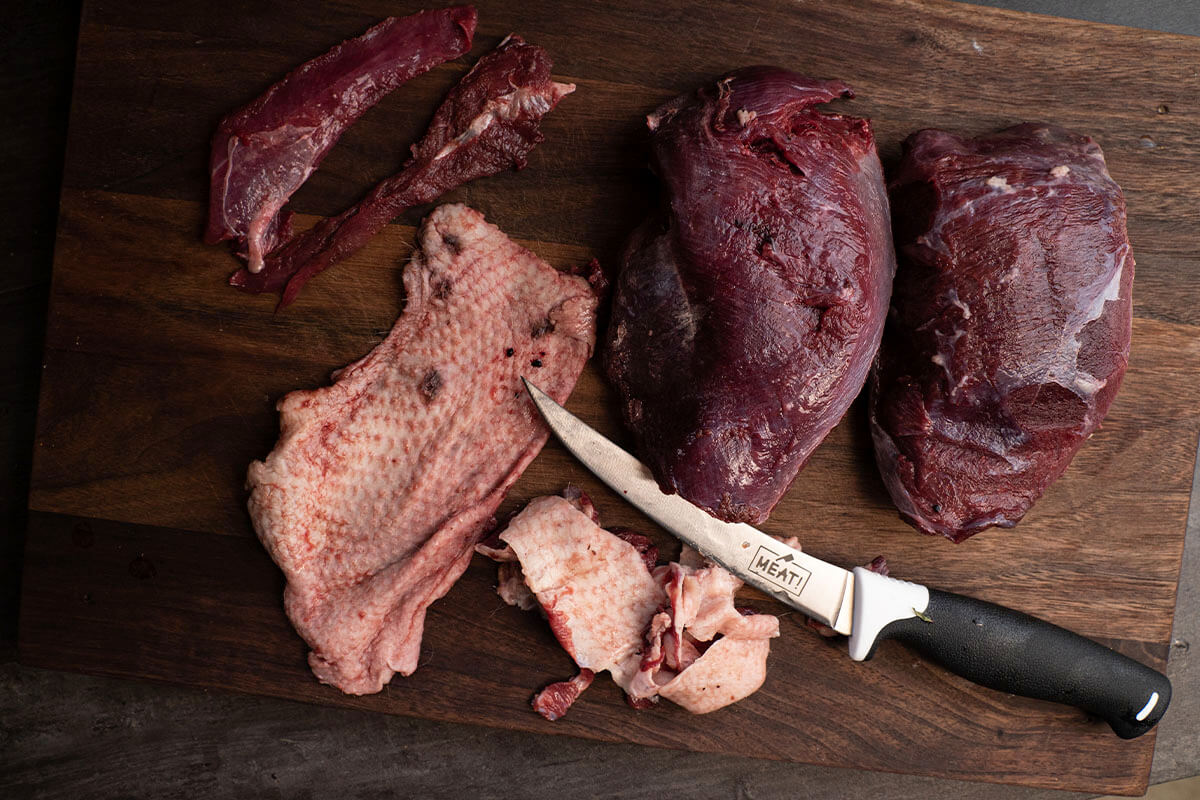 How to Make Duck Butter
I like calling it duck butter, but this term, in the context of this story, applies to any rendered waterfowl fat. To make it, take the skin from your birds and cut into approximate 1-inch-by-1-inch pieces. Do note: Skin contains fat and fat contains flavor and that flavor is largely a product of a bird's diet. Translation: You may not want to make duck butter from divers, mergansers, and sea ducks. But I can promise you a Canada goose plump from a soybean diet will taste delicious.
After cutting into pieces, add those pieces to a skillet and cover with water. Add that skillet to the stovetop and turn the burner to medium-high. Once the water starts to boil, turn the heat to medium-low. The color of the liquids will turn milky, then eventually will turn clear (with a slight yellow tint) and start to bubble (kind of like grease). When this happens, you're done at the stove, so turn off the heat. This process could take anywhere from a half hour to an hour.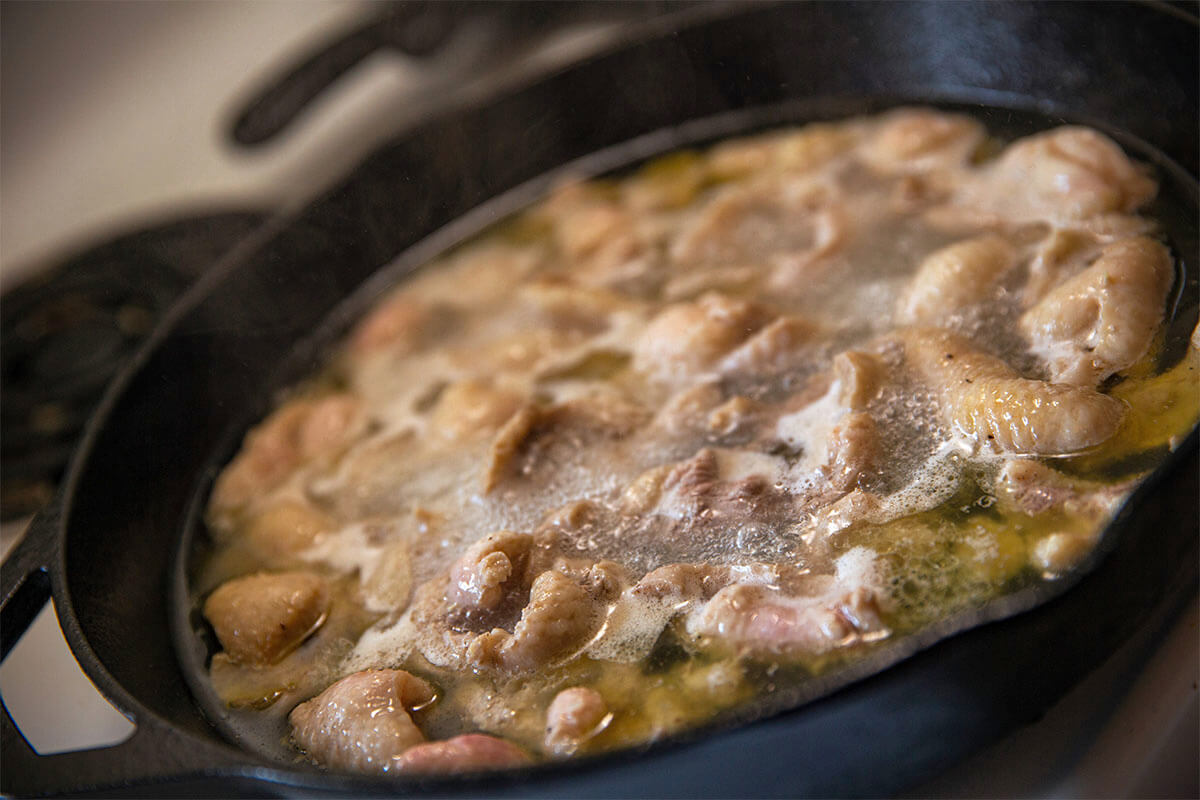 Next, using either a sieve or strainer, add a full-sheet paper towel and, while over a large bowl, add the liquids and bits from the skillet to the paper-towel-covered sieve or strainer and strain the rendered fat. The paper towel will filter out any undesirable bits while that liquid gold drips down into the bowl below.
Make sure to cool in a fridge before adding any lid. In a tightly sealed container, duck butter will keep in the fridge for six months, potentially longer. (Canning is always an option). Yes, you can freeze it too, and it'll stay good for 2-3 years
Video That May Interest You
×

---
What to Make with Duck Butter
The short answer: Anything you might use lard or butter for. The smoking point of butter is 302, while duck butter is 375 degrees Fahrenheit, which means you can cook with it at higher heat and add a nice sear to a steak, for example. Rub down some gold potatoes with it and roast those Yukons to perfection. Sauté some vegetables in your duck butter for a waterfowl stir-fry. The possibilities are endless.
How to bake with duck butter
Yes, you can bake with duck butter. As a general rule, when reviewing a recipe, I recommend substituting half the recommended butter for duck butter. (Example: If the recipe calls for 1/2 a cup of butter, use 1/4 cup butter and 1/4 cup duck butter.) If the recipe calls for lard, shortening, or Crisco (or something similar), use 100 % duck butter instead (no mix necessary). Anything you can bake with butter, lard, or shortening, you can bake with duck butter. Below is a Pumpkin Chocolate Chip Streusel Cake recipe based off of Mel's Kitchen Café's recipe. My wife made a couple of tweaks and we of course used a 1:1 ratio of duck butter to actual butter.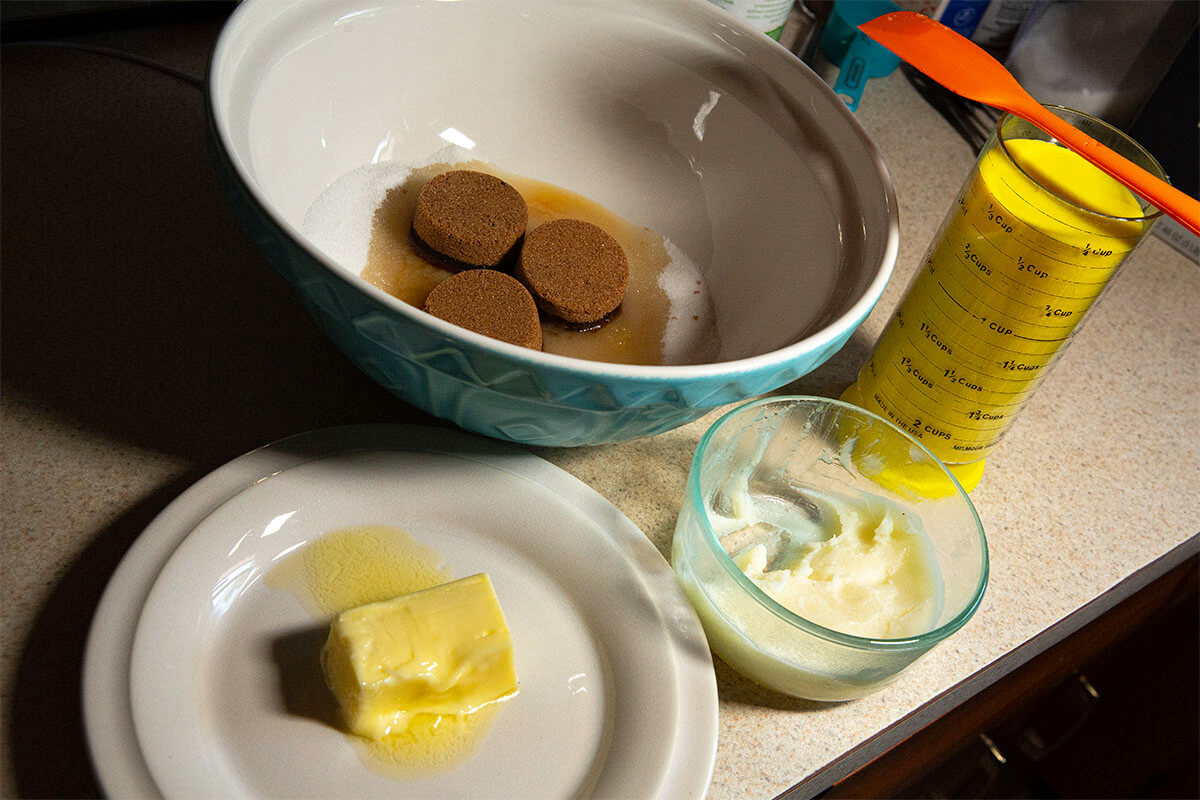 Pumpkin Chocolate Chip Streusel Cake Recipe
Cake Ingredients:
2-1/3 cups (331 g) all-purpose flour
1 tablespoon pumpkin pie spice (see note)
1 teaspoon ground cinnamon
1 teaspoon baking soda
3/4 teaspoon salt
1/4 cup (56 g) salted butter, softened to room temperature
1/4 cup (56 g) duck butter, brought to room temperature
1/2 cup (113 g) unsweetened applesauce
3/4 cup (159 g) granulated sugar
3/4 cup (159 g) packed light brown sugar
1 large egg
2 teaspoons vanilla extract
1 (15-ounce) can pumpkin, (about 2 cups)
1-1/2 cups (255 g) semisweet chocolate chips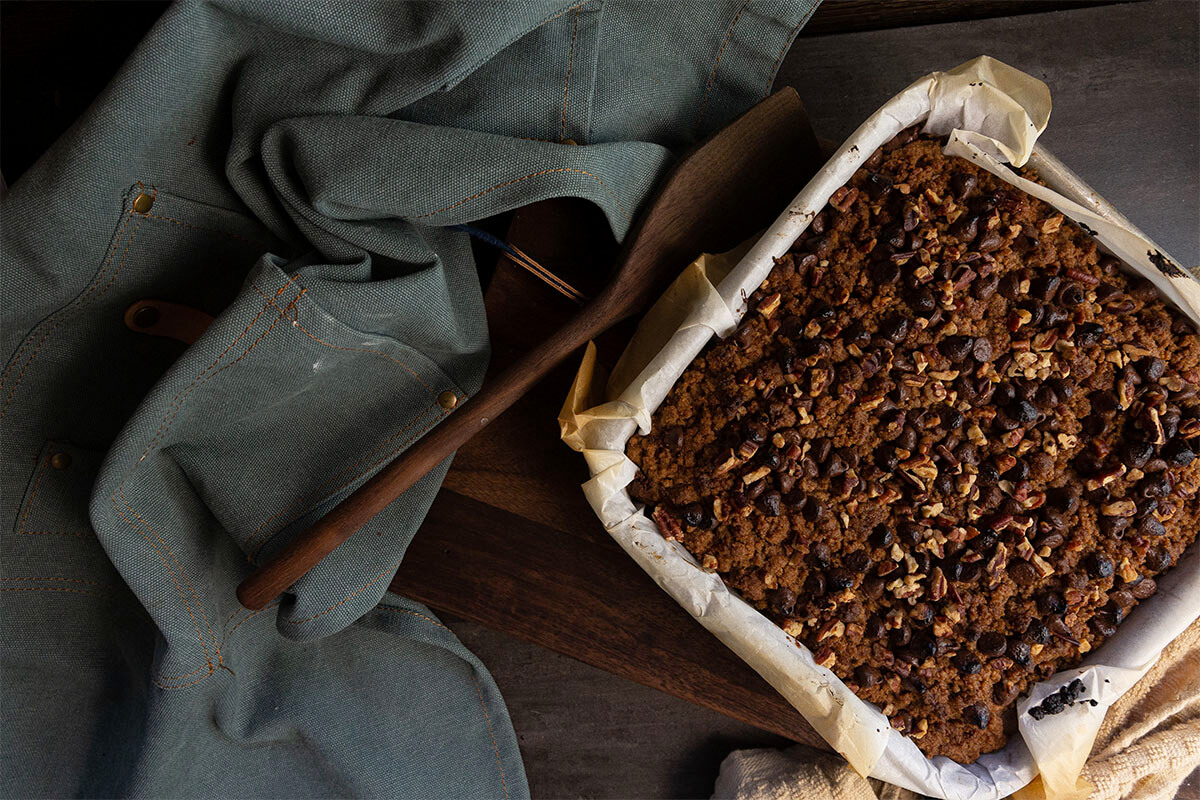 Streusel Ingredients:
1 cup (142 g) all-purpose flour
3/4 cup (159 g) packed dark brown sugar
1 teaspoon ground cinnamon
Pinch of kosher salt
1/4 cup (56 g) salted butter, cut into tablespoon-size pieces and softened to room temperature
1/4 cup (56 g) duck butter, brought to room temperature
1/2 cup (85 g) semisweet chocolate chips
1/2 cup (57 g) toasted pecans (optional)
1/2 cup crushed pecans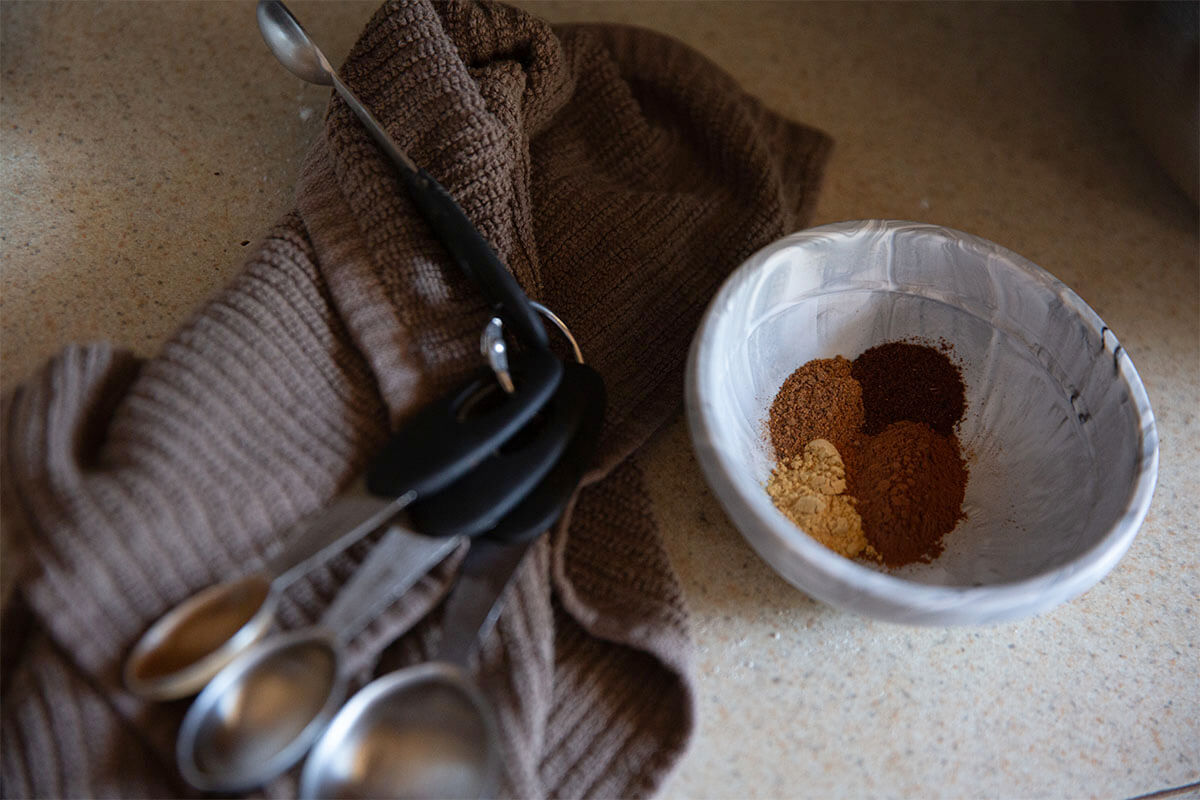 Cooking Directions:
Preheat oven to 350. Lightly grease a 9X13-inch metal baking pan with nonstick cooking spray or butter (or you can line with parchment or foil and then grease for easy cleanup).
In a medium bowl, whisk together flour, pumpkin pie spice, cinnamon, baking soda, and salt. Set aside. In the bowl of a stand mixer or in a large bowl using a handheld electric mixer, mix the duck butter and butter, applesauce, granulated sugar and brown sugar on medium-high speed until smooth. Yes, you can whisk by hand until smooth. Beat in egg and vanilla until combined. Add canned pumpkin and mix until combined. It's ok if the mixture looks curdled.
Mix in the dry ingredients, stirring just until combined. Fold in the chocolate chips.
Spread the batter evenly in the prepared pan.
For the streusel, in a small bowl, whisk together the flour, brown sugar, cinnamon, and salt. Add both the duck butter and butter and mix with a pastry blender or your fingers until the streusel is evenly combined and forms small clumps.
Sprinkle the streusel mixture over the pumpkin bars followed by the 1/2 cup chocolate chips and toasted pecans (if using).
Bake until the edges begin to pull away from the sides of the pan and a toothpick inserted in the center comes out clean or with just a few moist crumbs attached, 35 to 40 minutes.
With 5 minutes left in baking time, add crushed pecans to the top.
Cool completely in the pan before serving.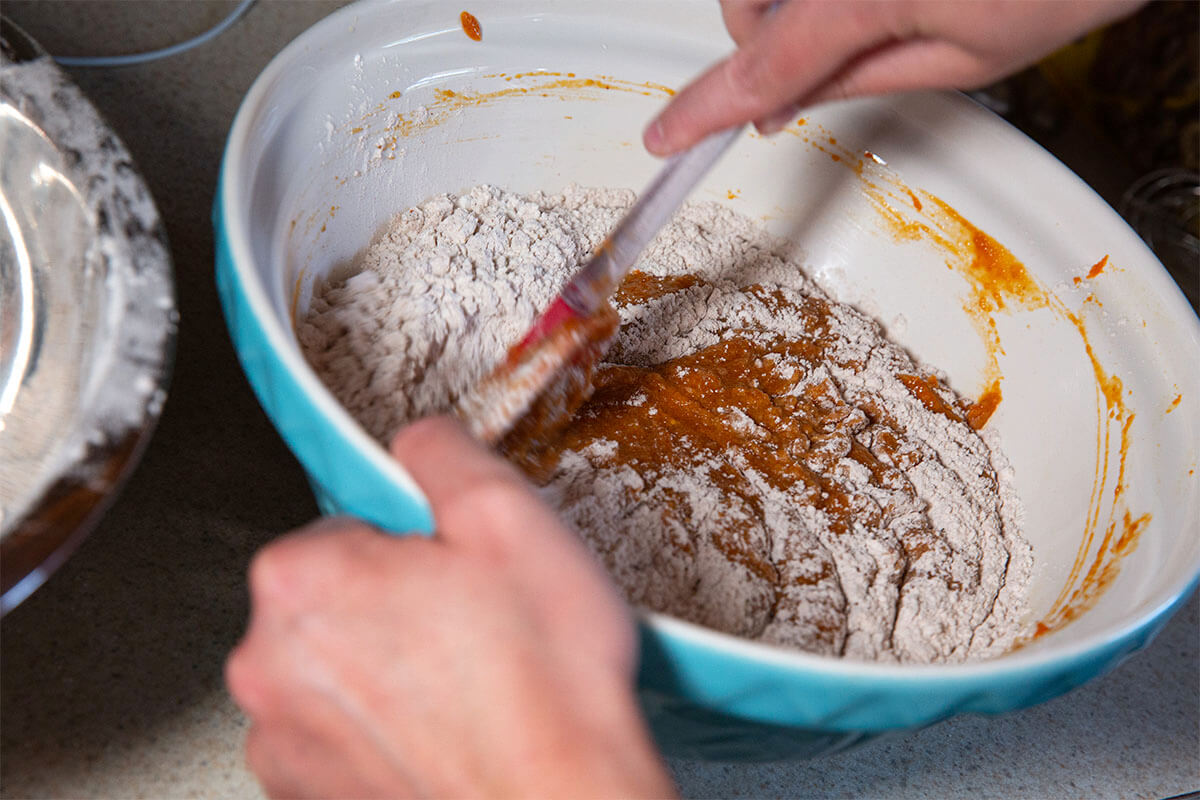 Any questions or comments, please reach out on Instagram: @WildGameJack
.