Built by Thunderbike, the custom Fat Boy has loads of upgrades including massive 23 and 21-inch aluminum wheels.
This Fat Boy goes to show how good the German custom motorcycle scene is
n"" data-modal-id="single-image-modal" data-modal-container-id="single-image-modal-container" data-img-caption=""
Thunderbike
n"">
This Fat Boy goes to show how good the German custom motorcycle scene is
The custom Harley-Davidson culture is popular worldwide, but some countries (and their shops) continue to impress us regularly. Germany's Thunderbike is one of these custom shops, and it's given us crazy builds like this Street Bob inspired by the P-51 Mustang fighter jet. Today, we're bringing you yet another breathtaking project, this time based on Harley-Davidson's iconic thumper, the Fat Boy that's so good, it'll make waves all the way to America.
RELATED: Custom Harley-Davidson Sportster Looks Mesmerizing In Its Vintage Avatar
Custom Harley-Davidson Fat Boy "Dark Force" By Thunderbike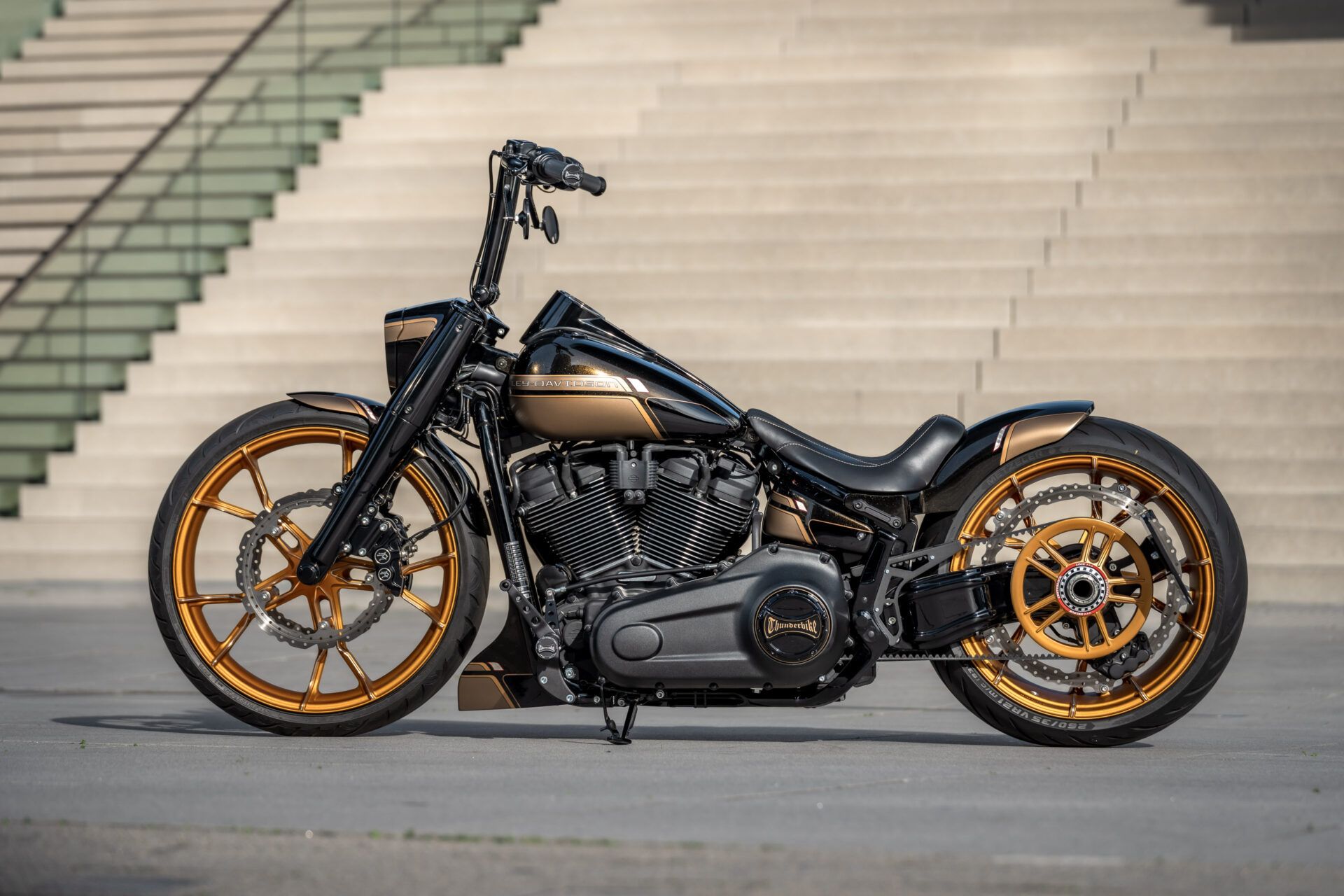 The wheels are easily one of the highlights on this build
Christened "Dark Force" by its makers, the custom Harley-Davidson Fat Boy has a lot going on, and most of it is in the underpinnings department. The highlights are the 23/21-inch custom aluminum wheels (F/R) that replace the stock 16-inches. These don a dazzling 10-spoke design finished in a dark gold tone which is guaranteed to turn heads around the world.
In the meantime, the rear end features a bespoke single-sided swingarm, a sleek fender with integrated LEDs, and a huge perimeter disc paired with a six-piston caliper. Simultaneously, you'll find custom fork legs and an upgraded dual 340mm disc brake setup upfront. The crown jewel at both ends, though, is Thunderbike's Air-Ride suspension kit that lets you drop the ride height with a flick of a switch. Speaking of the ride height, you now sit on a custom leather saddle while resting your arms on a 12-inch tall custom handlebar. The ape-hanger wears custom parts – mirrors, grips, levers – and works in conjunction with aftermarket forward foot controls for a relaxed riding posture.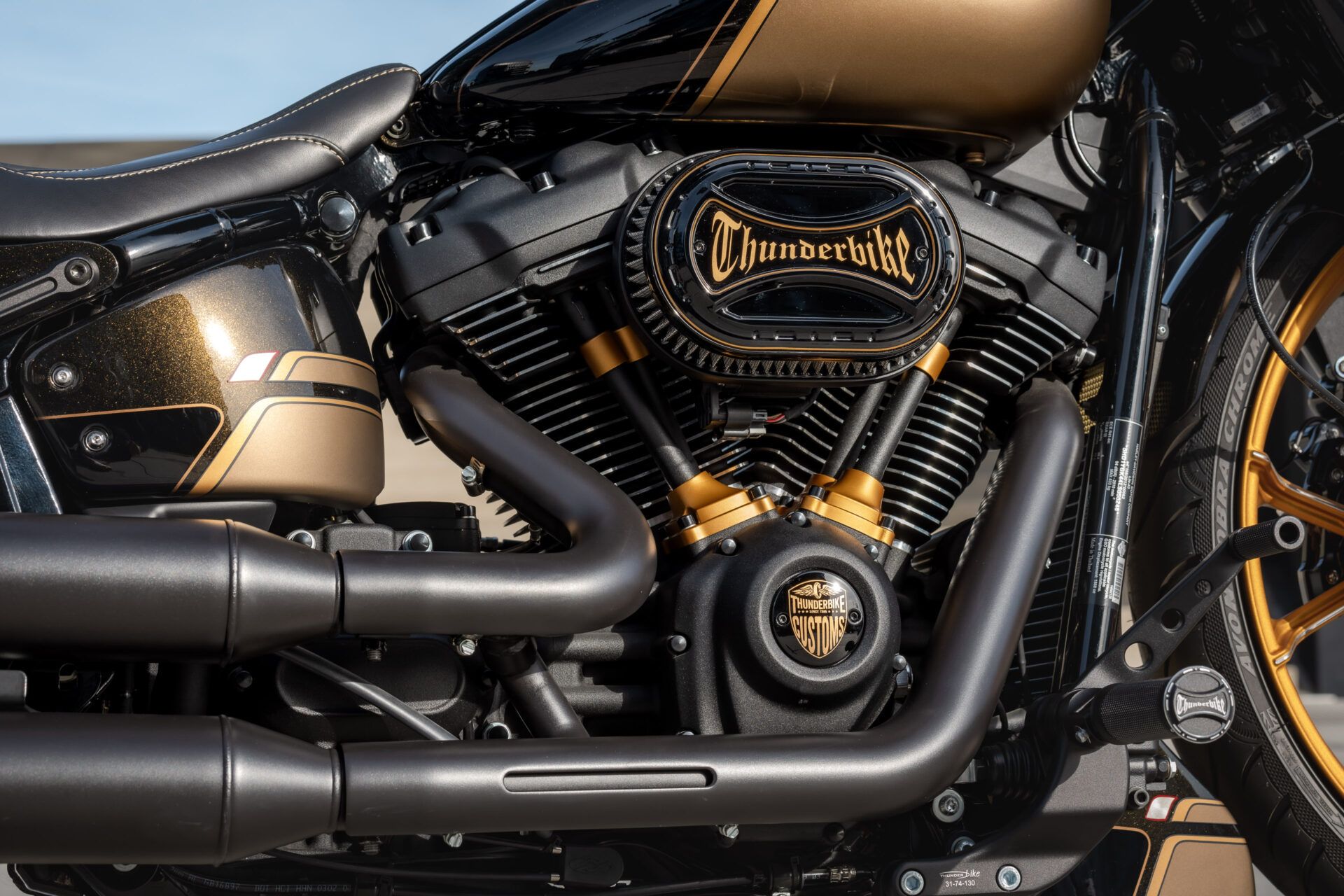 Though there are hardly any performance mods, Thunderbike has still swaggered up the engine from the outside
RELATED: This Custom Harley-Davidson Fat Boy is Downright Ludicrous
What about performance, you ask? Well, more juice wasn't exactly Thunderbike's priority here. So the Fat Boy's Milwaukee Eight 114 mill (with 94 horsepower) remains mostly unchanged but breathes better thanks to an aftermarket full-system exhaust. The shop did, however, dazzle up the otherwise chrome-laden engine with a black base coat and gold push rods, which aligns with the stunning triple-tone livery on all body parts.
Can You Buy This Custom Harley-Davidson Fat Boy?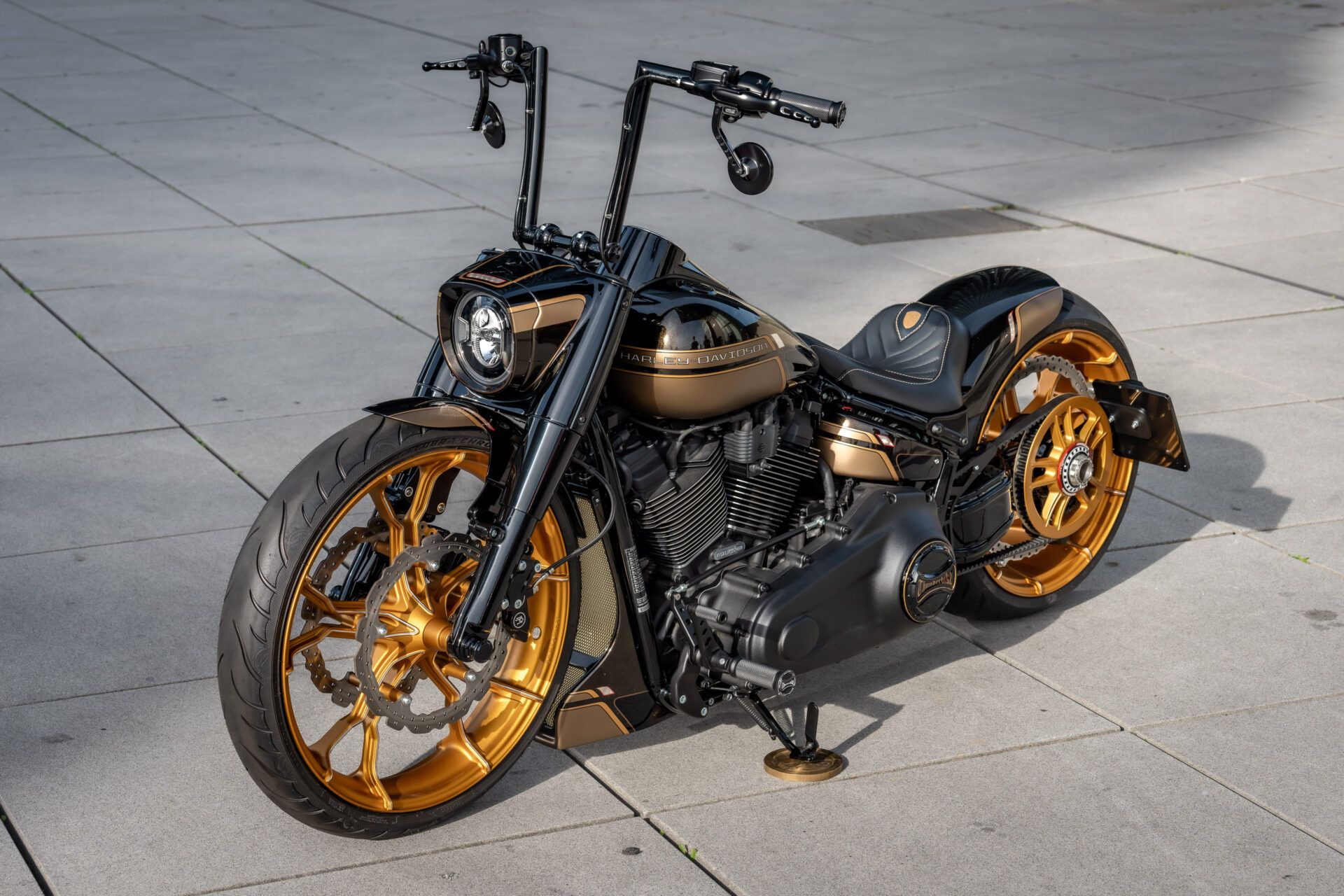 The shop hasn't shed light on whether this is for grabs, but lucky for you, most of these parts are available separately
Thunderbike hasn't shed light on whether this Fat Boy is up for grabs. And even if it did, sourcing it from Germany would've been a pain in the bum. Luckily, though, most of these parts – even the bamboozling wheels – are available à la carte on the shop's website, with prices for pieces of kit starting from as little as 30 Euros (~$32). Once delivered, you can head to your trusted mechanic, get the parts put on, and enjoy bragging rights in your Harley Owners Group.