Korea Research Institute of Bioscience & Biotechnology (KRIBB) said on Monday that its researchers have discovered proteins to alleviate human inflammation to aid in the diagnosis of inflammatory diseases and the development of therapeutic technologies.
Inflammation is a complex immune response that occurs as a defense mechanism when biological tissues are damaged or infected. However, if such inflammation is not resolved and leads to chronic inflammation, it can cause not only inflammatory diseases but also cardiovascular diseases or cancer.
Lying, research has been actively conducted on inflammatory factors, but studies on the mechanism of alleviating and eliminating inflammation have been insufficient.
Twenty protein synthases are involved in the synthesis process in which cells make proteins, and eight of them are known to exist in the cytoplasm forming a huge complex.
To the research team, among these eight enzyme complexes, a protein called EPRS1, short for Glutamyl-Prolyl-TRNA Synthetase 1, can prevent viral infection.
Furthermore, they found that the EPRS1 protein alleviates inflammation and maintains immune homeostasis by adjusting a specific signaling system in an inflammatory environment of the human body such as pathogenic bacterial infections or inflammatory bowel disease.
Accordingly, when the EPRS1 protein is exposed to the inflammatory environment, it activates the AKT protein – important for signal transmission to suppress- inflammation and promotes the secretion of the anti-inflammatory cytokine IL-10 protein.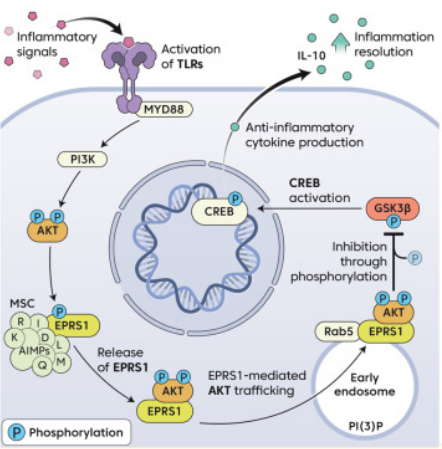 Using a mouse model, the research team confirmed that mice without EPRS1 had lower survival rates compared to normal conditions due to reduced anti-inflammatory immune function when they developed sepsis and inflammatory bowel disease.
"EPRS1's inflammatory mitigation mechanism confirms that enzyme complexes present in all cells, function as a constant maintenance medium that regulates the human immune environment as well as protein synthesis," Dr. Kim Myung-hee, the research director, said. "We will continue investigating the structure of the enzyme complex to contribute to the understanding of diseases in the human body."
Dr. Lee Eun-young, the first author, said, "We expect that it can be used to diagnose inflammatory diseases and develop treatment technologies by identifying new anti-inflammatory signal transmission paths."
The study was published online in the October 29 edition of Nature Communications.