Proper fat, oil and grease management leads to cost saving later down the line. Here are the latest tips and kit to stop the clogs
Foodservice operators seem to be floundering in the fight to manage the waste fats, oils and greases (FOG) – unavoidable by-products of commercial kitchens – that can create havoc for both operators and the wider community if allowed to build up in drains and public sewers.
In an explanatory paper on the food waste hierarchy, the Food Service Equipment Association (FEA) cites a recent study that found just 12% of the UK's estimated 427,000 foodservice establishments (FSEs) were using FOG management equipment and only 0.15% were following best practice guidance.
"As a result, FOG is washed down FSEs' sinks or drains on a daily basis – whether deliberately by pouring unwanted oil down drains or inadvertently during the process of cleaning used dishes, cutlery and kitchenware," it reports.
FOG is blamed for 70% of drain blocks and back-ups in commercial kitchens and 75% of sewer blockages. The latter cost water companies around £100m a year to clear so it is unsurprising that they and ministers are juggling the options of clearer guidance and standards or firmer regulation to keep FOG out of the water system.
FOG-blocked kitchen drains are smelly and unhygienic and may result in downtime, costly repairs and business shutdown by environmental health offices. Caterers may also face unlimited fines, remedial costs or even imprisonment for FOG-related blockages and floods in public sewers that may impact local homes and businesses and pollute rivers and waterways.
"Fortunately, effective FOG management can actually allow waste that can be so damaging to society to do good for us all. If collected and processed, FOG can be reused as an energy source, creating biodiesel, biogas or electricity," observes Stephen Hobbs, chair of the FEA.
The favored approach is to mechanically separate FOG at source so it can be converted to renewable energy using anaerobic digestion or biodiesel production. As a first step, it makes sense to reduce the volume of waste cooking oil – the Sustainable Restaurant Association suggests switching to cooking methods such as dry-, air- or shallow-frying, grilling, griddling, roasting or baking.
Out of the frying pan
Synergy Grill neatly sidesteps what chairman and chief executive Justin Cadbury describes as the "notoriously tricky" and "daunting" task of dealing with FOG as its high-power, low-energy gas and electric grills atomise fats into carbon dust that can be vacuumed out at the end of service. The grills use the vapor released from fat and oils to baste the food and lock in moisture, while the atomisation process harnesses the oils as a secondary heat source, "thus turning fat into free fuel", adds Cadbury. The grease-free smoke additionally keeps kitchen flues twice as clean, halving the need for routine deep cleans and daily primary filter cleans.
Extending the lifespan of cooking oil also reduces overall FOG volumes while saving caterers money. "In recent months, the price of cooking oil has risen by as much as 150%. This increase has added significant costs to a business's overheads, impacting margin and profit in the process," notes Steve Elliott, sales director at Valentine and CuisinEquip.
Its range of German-made Vito portable oil filtration units can extend the usable life-span of fryer oil by 50% while preserving "the optimal taste, color and texture of fried foods". Their finer filters (using pressure rather than gravity) remove more breading, batter, protein and carbon sediments up to two-thirds faster than other methods.
Safeguarding staff from hot oil, the unit drops into the deep fat fryer at full operating temperature where it runs on a self-timer for five minutes to microfilter oil contaminants. When cooled, the unit's filter box and drip tray can go straight into the dishwasher.
Into the fryer
Each kitchen has unique FOG needs (based on operation, layout and size) that are best assessed by a professional site visit – and there can be few as challenging as the kitchen at Edwardian Hotel's new 16-storey super-boutique, the Londoner in Leicester Square. The kitchen, which serves 1,500 a day, is six floors below ground level at the deepest underground meals point in London.
ACO Building Drainage specified a 4,000-litre capacity LipuJet P-RAP NS 15 grease separator that can process 15 litres of wastewater per second. The tricky location necessitated assembling the separator in on-site sections, shortening pipework and adding twin high-capacity disposal pumps, mounted in series, which pump the wastewater and separated FOG and food particles to ground level once a month when the separator needs emptying.
Jestic Foodservice solutions that remove FOG directly from cooking equipment, include Frontline's plumbed-in pump station that transfers oil from fryers or grills into a storage tank at the push of a button. Where plumbing is unfeasible, Frontline wheeled caddies can be rolled under equipment to drain the waste oil for storage and collection, while a filter machine caddy helps prolong the life of oil in fryers without built-in filtration.
A fully-automatic Grease Collection System is a new option on MKN FlexiCombi ovens that actively pumps out excess oils, fats and liquids into a separate container, behind clean waste water that can be reused for cooking and cleaning the combi.
Mechline's BioCeptor solution meets British Water's gold standard in FOG treatment by combining both mechanical separation at source and biological dosing. The FOG Intercept and Treatment (FIT) unit traps and retains the grease and fats while the linked GreasePak automatic dosing system uses a multi-strain bio-fluid to degrade FOG into simple non-solidified molecules.
This teamwork delivers easy maintenance (Greasepak nearly halves the need to clean the grease trap) and less FOG waste to deal with, explains product and technical director Nick Falco: "In field trials, the presence of GreasePak dosing into the FIT unit (versus without ) extended the length of time between collections from 28 days to 12 weeks therefore significantly reducing kitchen disruption, and the typical carbon footprint levels associated with FOGS transportation for traditional grease traps."
FiltaFOG Cyclone, Filta Group's next-generation grease recovery unit, is the world's first to use hydrocyclones to help clear FOG from wastewater, achieving a concentration of just four parts per million against an industry standard of 25ppm.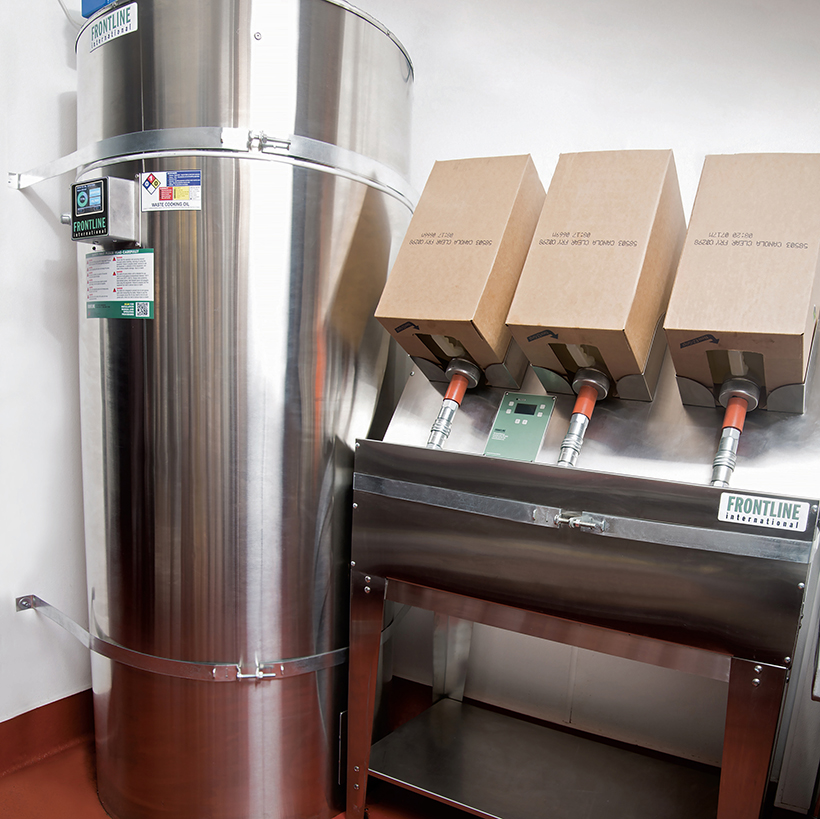 Working with drainage systems, dishwashers, potwash areas, rotisserie and combi ovens and costing just three pence per day to run, the units store food debris in a removable basket while forcing FOG through a two-stage separation and recovery process into an oil collection cassette .
"Ultimately, the way FOG is created, managed and disposed of within the foodservice industry can help protect all levels of society and the natural world from the risks posed by blockages and sewer flooding," concludes Hobbs at the FEA. "Instead of causing costly problems in sewers and drains, collected FOG can help reduce carbon emissions and support the nation's journey towards net zero."
Fog busters
Mechanical Separation at Source
The gold standard for FOG management, they typically use gravity to separate FOG (which floats to the surface) and food waste (which sinks to the bottom) from waste water to be captured or directed elsewhere
This includes:
Passive under-sink grease traps
Active under-sink grease recovery or removal units (GRUs)
Larger grease separators (BS EN 1825) in above- or below-ground formats installed outside the kitchen
Chemical bioremediation or bacterial treatment
Wall-mounted, pumped or preactivated dosing uses bacteria, micro-organisms or enzymes in fluid, solid or powder form to break FOG down into an emulsion.
Because there is a risk that emulsions may re-solidify downstream, best practice sees biological dosing as a secondary or complementary treatment to removal at source and one that ideally should be applied to every waste pipe exiting the kitchen to capture any residual FOG.
Source: FEA Hospitality Food and Drink Waste Hierarchy Explanatory Paper
Suppliers
ACO Building Drainage www.aco.co.uk/aco-building-drainage
FEA www.fea.org.uk
Filta Group www.filta.co.uk
Jestic Foodservice Solutions www.jestic.co.uk
Mechline Developments www.mechline.com/w
www.fogsmanagement.com
Sustainable Restaurant Association thesra.org
Synergy Grill Technology synergygrill.com
Valentine and CuisinEquip www.valentinefryers.com
.