When working towards healthy weight loss, eating a protein-filled diet and choosing foods that promote gut health is essential. We reached out to health experts for four go-to foods that all contain necessary protein for weight loss, and others with fiber for a smoother digestion. Read on for tips and suggestions from Jay Cowin, NNCP, RNT, RNC, CHN, CSNA, registered nutritionist and Director of Formulations at ASYSTEM, Maegan Griffin, health and nutrition expert, founder, CEO and nurse practitioner at Skin Pharm, Trista Best, MPH, RD, LD, registered dietitian at Balance One Supplements, and Lisa Richards, registered nutritionist and creator of The Candida Diet.
The 100+ Best Beauty Launches Of 2022
Shutterstock
1. Greek Yogurt
One great and versatile food to add to your diet (if your goal is to lose weight and soothe your gut) is plain, Greek yogurt, Cowin says. "Greek yogurt topped with fruits is a great snack or dessert, as not only it is packed with nutrients, but it's a good source of protein, which can help you feel full for a while so you can avoid overeating or midnight snacking." In addition, Cowin says that Greek yogurt is "also lower in sugar and calories than other types of yogurt," so this is "perfect" for those who want to "satisfy their sweet tooth but are working to lose weight." A typical 6-ounce serving of Greek yogurt contains 15 to 20 grams of protein.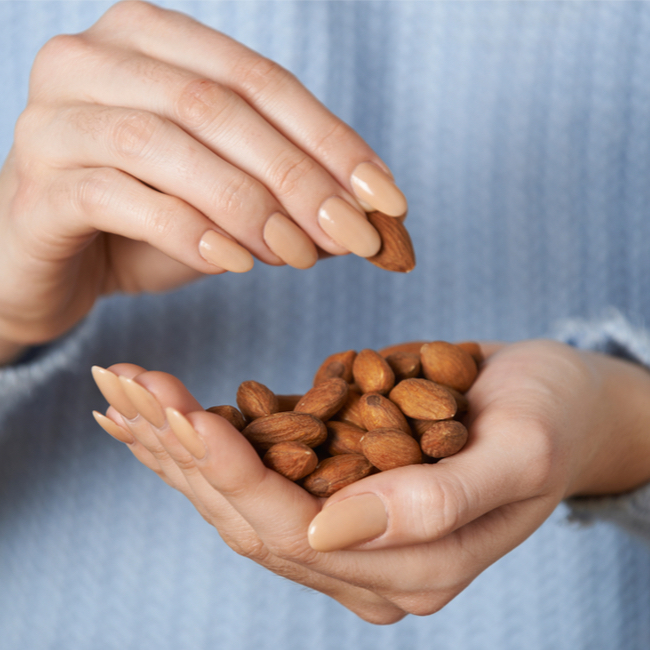 Shutterstock
2. Almonds
Eating nuts is another way to add more protein to your diet, Griffin says, and almonds in particular are a "wonderful source of not only protein, but also vitamin E, and monounsaturated fats." Daily consumption of almonds, she says, have benefits for your gut, the ability to feel fuller for longer (to help with weight loss), and also promote skin health. "You can consume almonds in a number of ways," she acknowledges, "whether you eat them raw or have some almond butter." For reference, one ounce of almonds provides about 6 healthy grams of protein.
Shutterstock
3. Egg Whites
Eggs are also another very versatile food that provides ample energy and protein— with an average-sized egg containing about 6–7 grams. Both the egg yolk and egg white are protein-filled, and Best says that the latter can be more beneficial for weight loss. "Egg whites can be a great way to cut down on the fat of a traditional egg-based meal while maintaining a lean source of protein," she explains. Eating just the egg whites allows you to "cut down on calories from 71 to 18, while only losing 2 grams of protein," she points out. The fat content, however, "drops from 5 grams in an entire egg to zero when only eating the egg whites." Noted! Best adds that there are "certainly pros to keeping the yolk in with the recipe, and each individual must decide this for themselves." Many of the nutrients "beneficial to other areas of health, aside from weight loss," can be "found in the yolks of the egg," she says.
Shutterstock
4. Lentils
Lentils (plants known for lens-shaped seeds), are classified as legumes, which are plants that produce pods that contain seeds. These can easily find their way into a healthy dinner, and are known for their versatility. As for their health benefits, legumes and lentils specifically can offer a helpful intake of protein, complex carbohydrates and fiber, all of which are essential for weight loss, a healthy gut, and providing you with energy to last the day. In addition, this high-protein food can also help your body produce more hyaluronic acid, which is a powerful substance in anti-aging skincare. Richards recommends eating lentils, which often contain 12 grams of protein in a ½ cup serving. Overall, "a diet high in protein," she suggests, can help to reduce and prevent belly fat. "Lean protein both boosts metabolism and increases satiety," she concludes, and "an increased metabolism will lead to weight loss."
.